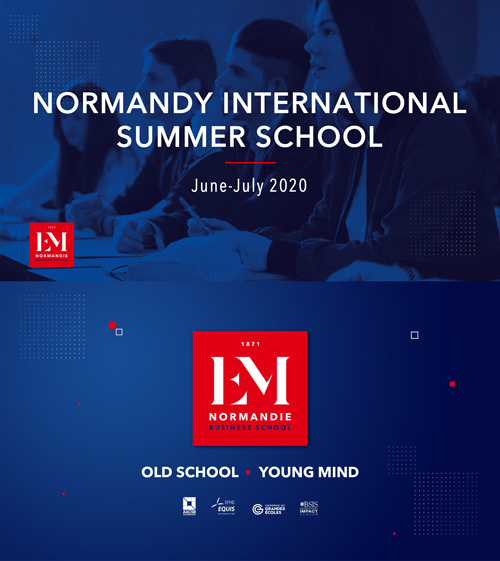 International University – Viet Nam National University Ho Chi Minh City would like to invite IU students to participate in the Summer School 2020 at EM Normandy, France. The details are as follows:
Program duration: June 25 – July 25, 2020; two options for students:
Two weeks:
Session A: from June 25 to July 11, 2020 (ALERT: same time with Final Exam)
or Session B: from July 9 to July 25, 2020
Four weeks:
From June 25 to July 25, 2020
Venue: Caen, Normandy and 1-day trip to Paris
Fees: €150 registration fee (exclude logistic costs from/to your home/Paris CDG airport, passport, visa, insurance, accommodation*, food, extras & personal expenses).
Program details: https://www.em-normandie.com/sites/default/files/2020-01/NISRS2020_Flyer-v2_min.pdf
Target candidates: Undergraduate and Graduate students
Academic requirements:
Applicants have the pre-requisites specified in the course's syllabus (please check HERE)
For non-native speakers of English: B2 (CEFR) or equivalent (TOEFL IBT 72, IELTS 5.0, TOEIC 750) is highly recommended.
Application deadline: register at International Student Service Center (Room A2.604) before March 1st 2020