PRE-DEPARTURE CHECKLIST
YOUR CHECKLIST
Student Visa: Please contact IU Inbound Coordinator to be assisted as soon as possible.
Book the airport pick-up service (if needed)
Contact IU Coordinator for assistance on your accommodation in Ho Chi Minh City.
Book your return flight. Please note that International University does not support early examination, hence it is a must for you to sit final examination before flying home, otherwise you may fail your courses at IU. Please check our newest Academic Calendar for this final examination period.
Look for more information on your exchange program (Handbook for International Student can be downloaded here)
Prepare your finance for a semester abroad. It is advisable to carry a sufficient amount of money for your first month in Vietnam (approx. 350 USD for food and local transportation plus wide range of accommodation cost depending on types (may go up to 3,300 – 3,500 USD/shared apartment for 03 individuals or 750 USD/serviced room/individual, including 2 month-deposit and first month rental).
Consider purchasing overseas insurance if this is part of your home institution's requirements (also highly recommended by IU – although this is not A Must from our side). However, please be aware that some medical services for foreigners at international hospitals in Ho Chi Minh City are very expensive.
Prepare appropriate adaptor for your electrical appliances (220V – 50Hz electrical power) (see more details on https://blog.inspitrip.com/1760/vietnam-power-plug-and-voltage/)
Download useful apps to be able to use them right on your arrival in Ho Chi Minh City (ie, currency converter, transportation (taxi, bus), etc) – see Table below.
International Fair, being organized for international students on exchange at IU, will be held in October annually. International students are invited to introduce their home university as well as their home country's cultural values (food, national customs, etc.) to IU Community. If appropriate, please ask the Exchange Coordinator at your home university for promotional materials for such purposes.


Useful Apps
No.
Name
Description
1
Grab (for bike/car/taxi booking)
Get a safe and reliable ride in minutes with Grab transportation booking service. With the largest pool of drivers in Southeast Asia, Grab offers the fastest transport booking service for taxis, private cars and motorbikes.
2
XE (currency exchange)
With the XE Currency App, you can access live exchange rates, view historical charts, and calculate prices on your smartphone or tablet.
3
Foody (food exploration)

The application to "search" and "review" food locations in most of the provinces and cities in Vietnam such as Ho Chi Minh City, Hanoi, Da Nang, Hai Phong, Nha Trang….

With the clear classification in Restaurant, Cafe / Ice cream, Bakery, Bar / pub & Karaoke. Foody has thousands locations, Reviews, Photos, which helps you easily find where to enjoy.

4
BusMap (bus numbers and routines)
BusMap is created with the sole purpose of helping bus commuters to experience better and safer bus rides.
5
Airbnb App (hotel/place booking)
Find travel adventures and new places to go far away or near to you, and access vacation home rentals, new experiences, and places to visit all around the world. Book everything for your trip, or start earning money as a host.
ACCOMMODATION
What is about Ho Chi Minh City you should know and where you should live?
Ho Chi Minh City, formerly known as Saigon, is an ideal Vietnamese destination for travelers and expats with its fascinating culture, classic French architecture, and sleek skyscrapers included in one of the most modern settings of Vietnam.
Coming to Ho Chi Minh City, students can choose to live in either 19 districts but the most recommended places are District 1, 2, 3, 7, 9, 10, Tan Binh, Binh Thanh, Phu Nhuan, and Thu Duc. The map below can be employed as a clearer illustration.
*International University main campus address (for undergraduate exchange students): Quarter 6, Linh Trung Ward, Thu Duc District.
* International University downtown campus address (for graduate exchange students): 234 Pasteur Street, Ward 6, District 3.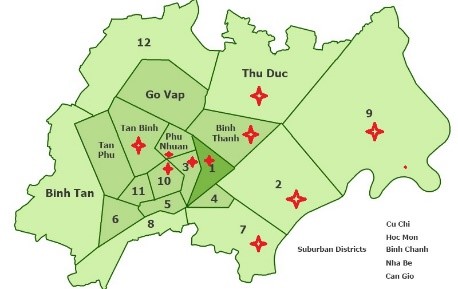 What did foreigners say?
"Thu Duc's vibrant atmosphere and low cost of living make it an increasingly attractive place to live. Currently, the biggest drawback to living in the area for many is that it's relatively far away from the city centre. However, when Ho Chi Minh City's metro system is complete – set to happen in 2020 – the area is expected to see a surge in popularity thanks to the construction of several stops in the area."
"Thao Dien ward in particular almost feels like foreigners are the majority these days. Expats here pay a premium for quieter living — to live on streets where they can jog and walk their dogs without insane traffic. You'll pay more to live in District 2, but that's the price for a bit of silence in a city of 10 million people."
"In Binh Thanh, there are so many cool places to live, and most landlords are more than happy to have foreigners. This is about as close as you can get to District 1 without inflated rents — but it doesn't have the feel of a downtown metropolis. If you want to live in an actual Vietnamese community, rather than one that's overflowing with foreigners and/or tourists, this hip district is for you."
"As long as you don't mind higher rents and smaller accommodations, then District 1 is an exciting place to live. It's more popular among newer expats, though, because most people get sick of the traffic and the hectic pace of life. You're right in the action. Many of the best bars, clubs, cafes and restaurants are minutes away."
"District 3 is a bit cheaper than District 1, but not by much. You'll find many old families who've lived in their homes for generations. There are many government buildings in this district, so it does have a bit of a stuffy feel to it. The nightlife is also really cool, and there are many delicious restaurants within walking distance."
"And on the other side of the Nhieu Loc–Thi Nghe Canal is Phu Nhuan.The area along Trường Sa Street is popular with expats because of the plentiful cafes and restaurants. And it's only a 10-minute drive to the downtown, so you're not isolating yourself by living here. We lived here for years and loved it."
"A large number of the seasoned expats in the city reside in District 7 — and in the Phu My Hung area, especially. You'll find all the imported creature comforts you could ever want here: fancy restaurants, cafes, world class gyms, international schools, spas and boutique shops. Korean and Japanese business people in particular gravitate to this area. Think of it as an upscale suburb."
"One of the biggest perks of District 10 is the rent, which tends to be nice and low. Food here is cheap and tasty, and given the high student population there are many cafes, pools and hang-out spots in the area. The streets here are on average smaller and the population is quite dense, so traffic can be an issue, but the district is also very close to Saigon's center, District 1, so all the city's best nightlife and the perks of the backpacker area are very close at hand."
"Where you choose to stay depends upon what kind of experience you would prefer. District 1 will give you a lot more exposure to tourists and may suit your comfort zone better. If you prefer to be around the locals more you might choose Tan Binh. This district has just about anything you might need at lower prices. Restaurants, cafes, supermarkets are available in abundance. A taxi ride to District 1 will cost about 4-5 USD and a motorcycle taxi much less. You will encounter foreigners in Tan Binh but most likely Australians, Taiwanese or South Koreans."
What sort of houses are there in recommended districts?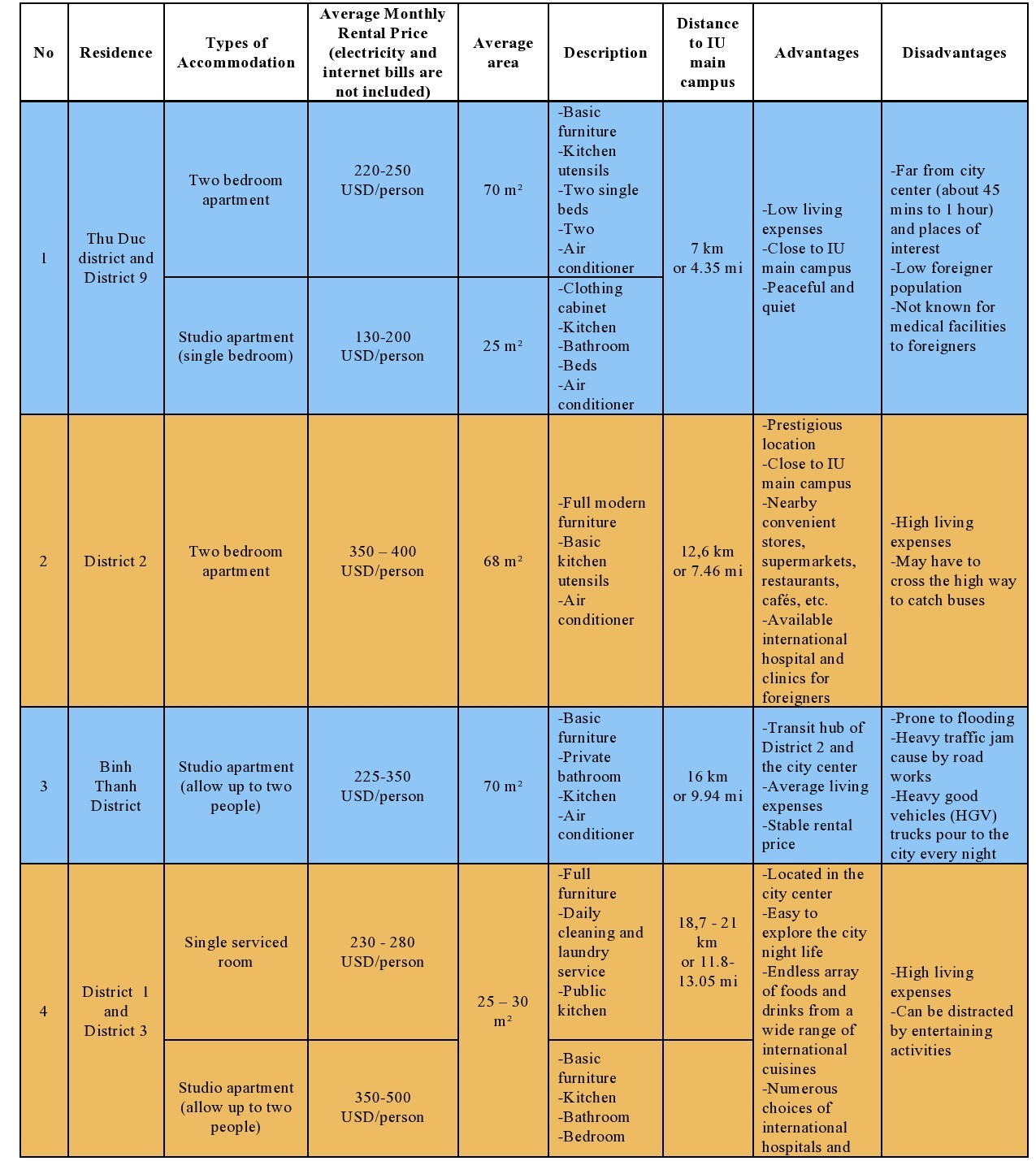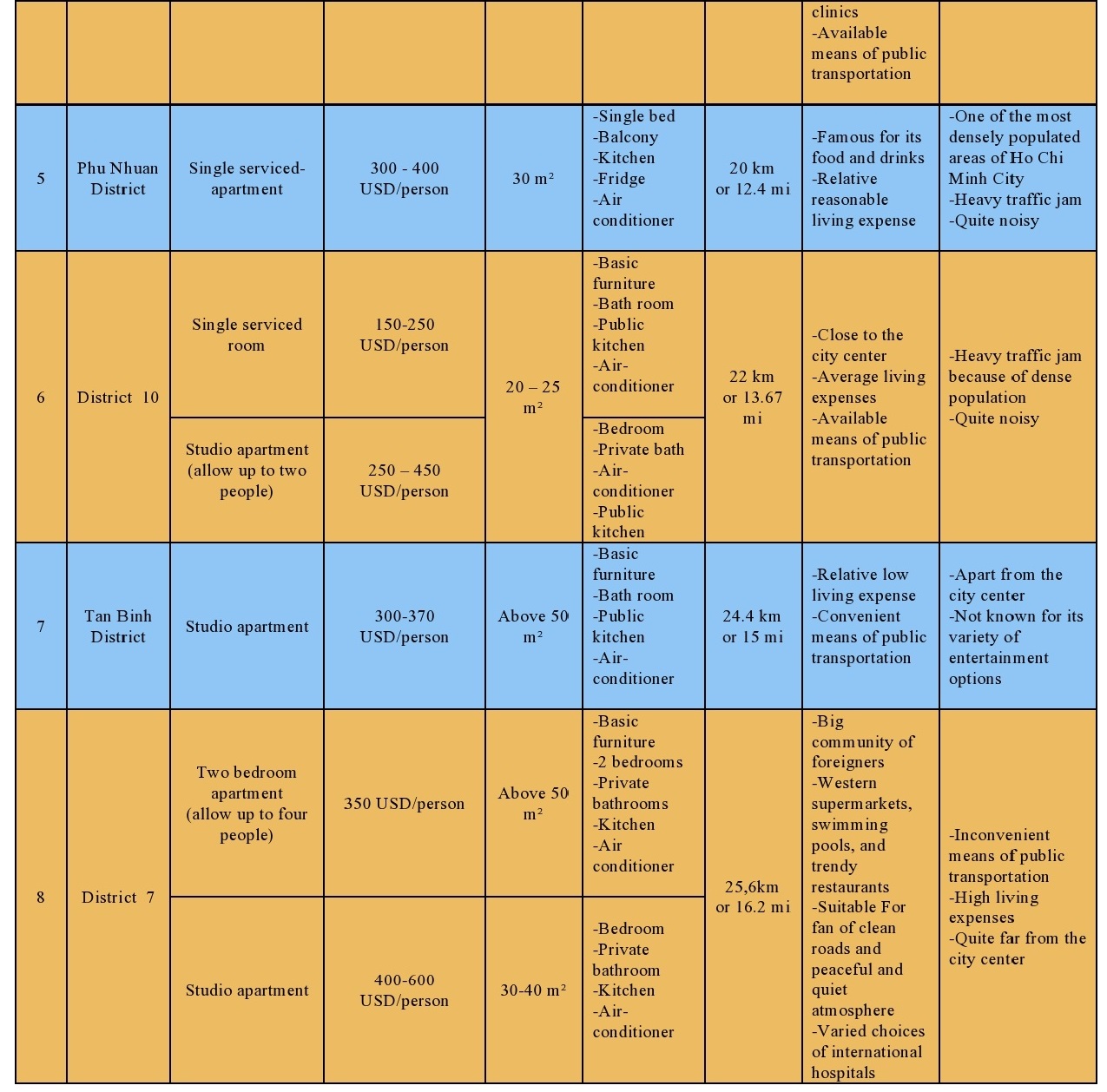 What should you pay attention when booking a place to live in Vietnam?
Popular booking websites used by international students
For safety, international students are not allowed to ride motorbike in Vietnam. Please consider the accommodation location and the availability of public transportation before making any decision.
*Access https://busmap.vn/ or download the app called Busmap to search for bus routes
Security deposit (from one to two monthly rent) may be required
Contract may be applicable
You can negotiate either the rent or internal facilities before deciding to rent the place
Before moving out, you should inform the landlord at least a month to receive the security deposit back
You can always ask for confirmation in paper from landlords when transferring or submitting any money
For the security deposit refund, you must not cause any damage to the rented place.
INSURANCE
Medical insurance is important to protect students from expensive treatment in case of diseases, accidents during their time in Vietnam.
Students are responsible for purchasing medical insurance which covers medical and health services the whole time you stay in Vietnam. In addition, please consider purchasing travel insurance to avoid lost or damage of your personal property/luggage if you plan to travel domestically or internationally, to and from Vietnam. For travelling abroad, please contact the insurance agency to switch your insurance from basic to international, and to ensure it will be valid while you are overseas.
HEALTH MATTERS
Before leaving for Vietnam, make sure that you have received the appropriate vaccination (especially against typhoid and hepatitis A). While most clinics and hospitals in Vietnam provide adequate health care, the quality for those in rural areas might vary. Also, be aware of food from street side vendors, where food hygiene cannot be guaranteed. If you suffer from diarrhea during your stay in Vietnam, please seek immediate medical attention.
AVIVAN INFLUENZA/ INFLUENZA

Vaccine's status in Vietnam:

· Available

Preventative Measure:

· Avoid contacting with live poultry and poultry markets

· Exercise regularly

· Wash hands with soap

· Flu shots, which last about 4 to 6 months, are recommended

Treatment:

· Drink plenty of waters

· Eat fruit and vegetables everyday

· Use of disposable tissues

HEPATITIS B AND HEPATITIS C

Vaccine's status in Vietnam:

· Hepatitis B: Available

· Hepatitis C: Non existence

Preventative Measure:

· Avoid unprotected sex

· Do not share your own needles, razors, toothbrushes to someone

· Hepatitis B: can be prevented by vaccination and requires a series of three booster shots

Treatment:

· Seek medical care

MOSQUITO-BORNE ILLNESSES

Vaccine's status in Vietnam:

· Dengue Fever: Non existence

· Malaria: Medicine available

· Japanese Encephalitis: Available

Preventative Measures:

· Dengue Fever & Malaria:

There is no specific treatment or vaccination for dengue, so preventing mosquito bites using mosquito repellant is the best prevention, especially when in rural areas.

Always use a mosquito netting when sleeping

Avoid outdoor activities where many insects are most active

· Japanese Encephalitis: can be prevented by vaccination

Treatment:

Seek medical care

MEASLES, MUMPS AND RUBELLA

Vaccine's status in Vietnam:

· Available

Preventative Measure:

· Can be prevented by vaccination

Treatment:

· Seek medical care

WATER & FOOD BORNE ILLNESSES

Vaccine's status in Vietnam:

· Typhoid: Available

· Hepatitis A: Available

· Travel Diarrhea: Medicine available

Preventative Measures:

· Typhoid & Hepatitis A: can be prevented by vaccination

· Clean hands with soap before meals

· Be careful with drinking water (bottled or boiled is recommended)

· Avoid the habit of drinking tape water

· Ice should be safe in restaurants, but if you are not sure, do not use it

· Be careful with uncooked foods, including vegetables and sashimi

· Always eat at busy restaurants or street stalls. It means that the food is fresh and has not been sitting for hours without customers

Treatment:

· Seek medical care

For Travel Diarrhea

· Prevent dehydration by drinking clean water & using oral rehydration salts (to replenish lost fluids and electrolytes)

· If it lasts more than 24hours, or does not get better after taking anti-diarrhea medication, or is accompanied by nausea, fever, cramps, or blood, you must see doctor immediately.