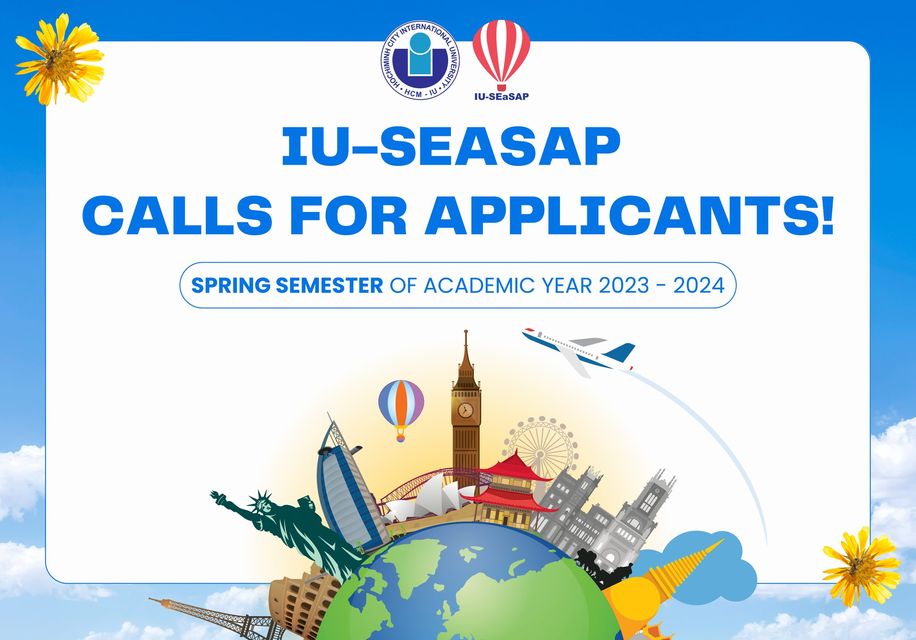 We now accept applications for the Spring exchange semester of the academic year 2023-2024. Check out the instructions below to learn more about the program, the exchange destinations for IUers, and get ready to discover the world with us!
𝐀𝐏𝐏𝐋𝐈𝐂𝐀𝐓𝐈𝐎𝐍 𝐃𝐎𝐂𝐔𝐌𝐄𝐍𝐓𝐒: A completed application file includes:
▪️ IU-SEaSAP Application form: download at https://tinyurl.com/47f74zcn;
▪️ 02 original transcripts (scale 100 and scale 4): students request from the Office of Academic Affairs (Room O2.708);
▪️ Letter of motivation (about 500 words in English);
▪️ Letter of recommendation from a full-time lecturer at IU-VNU (encouraged but not required);
▪️ Scanned copy of passport information page (valid for at least 12 months);
▪️ Certificate of English language (if required).
‼️ 𝐍𝐎𝐓𝐈𝐂𝐄: For Student exchange programs with scholarships, students are encouraged to submit a Letter of recommendation and a Certificate of English proficiency (IELTS/TOEFL);
𝐇𝐎𝐖 𝐓𝐎 𝐒𝐔𝐁𝐌𝐈𝐓 𝐘𝐎𝐔𝐑 𝐀𝐏𝐏𝐋𝐈𝐂𝐀𝐓𝐈𝐎𝐍:
▪️ 𝐃𝐨𝐜𝐮𝐦𝐞𝐧𝐭 𝐟𝐨𝐫𝐦𝐚𝐭: For each document, students should save it in PDF format and name it using the following format: Nguyen Van A – Document Name. For example: Nguyen Van A – Application Form; Nguyen Van A – Transcript of Record (scale 100);
▪️ 𝐃𝐞𝐚𝐝𝐥𝐢𝐧𝐞: Please submit your application on the portal before 11:00 PM on 20 August 2023 (Sunday).